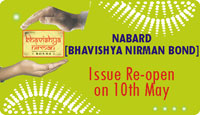 BHAVISHYA NIRMAN BOND
I.
GENERAL INFORMATION
A 10 Year Zero Coupon Bond of National Bank for Agriculture and Rural Development (NABARD) hereinafter referred to as Bhavishya Nirman Bond is being issued by way of private placement as long term investment under Sections 2 (47)& 2(48) of Income Tax Act, 1961.
The bonds will be listed at BSE.


TERMS OF THE BOND
| | |
| --- | --- |
| | Each bond has a face value of Rs. 20,000/-. |
| | Each bond has a Issue Price of Rs. 9,500/-. |
| | The bonds will be issued for tenure of 10 years from the deemed date of allotment. |
| | 7.73% p.a compounded. 11.05% p.a. Simple Yield |
| | The minimum investment under Bhavishya Nirman Bond shall be 5 bonds and thereafter in multiples of five bonds. |
| | No tax at source will be deducted by NABARD in terms of Section 194 A(3) of the Income Tax Act, 1961 on the income, which is paid, or payable. The said income will be treated as capital gains and capital gains tax, if any, will be payable by the investor directly to the Income Tax Authorities. |
| vi. Deemed Date of Allotment: | The deemed date of allotment of bonds shall be the first day of the month succeeding the month in which the duly completed application for investment is received. |
| vi. Right to update/revise/close the bond issue: | The instructions and other details contained in the application form will be updated from time to time. Any investment made will be governed by the terms and conditions applicable on the date of realisation of application money. NABARD reserves the right to close/revise the terms and conditions at its sole discretion without assigning any reason. |



To Apply :





Call: 0-9818-26-9396 | Email: info@safeinvestindia.com